Enter details
Payment
Complete!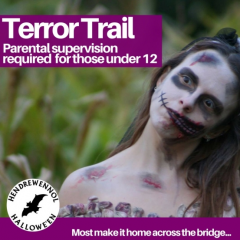 Terror Trail
Make your way along the haunted paths, avoiding some of our strange and scary hallowe'en visitors. You'll need to play detective too - as no one gets out without their passport!
The Daytime Terror Trail is during daylight only after which the Dusk Terror Trail takes over when it is getting dark. It is scarier with sound and visual effects and the inhabitants of the trail more likely to give you a fright. We cannot gauge the age suitability as everyone is different but can advise we are not aiming this at the 14 and above age group. It is for younger but braver children and their parents.
Please note: To gain entry to the site, each person must have an Activity Ticket or have a Grounds Pass. The only exception is children under the age of 2 who are not doing an activity (thus do not have an activity ticket) - they do not need a Grounds Pass.
Sorry, no tickets are currently on sale.
Your Basket
Item
Price
Qty
Subtotal
There are no items currently in your basket

Total

£0.00