Enter details
Payment
Complete!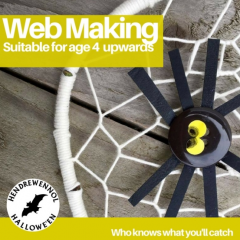 Web Making
Weave your own Hallowe'en dreamcatcher-style web, then customise it with "jewels" not forgetting to add your very own spider. Great activity for younger visitors: parental supervision required.
Please note: To gain entry to the site, each person must have an Activity Ticket or have a Grounds Pass. The only exception is children under the age of 2 who are not doing an activity (thus do not have an activity ticket) - they do not need a Grounds Pass.
Sorry, no tickets are currently on sale.
Your Basket
Item
Price
Qty
Subtotal
There are no items currently in your basket

Total

£0.00